Join our mailing list to stay informed about club events and news: 
1 day Face-to-face workshop, the Grenoble Drug Discovery Club

November 9th 2023 . At the IAB, Grenoble.
Invited Speakers.                         Find here the full programm
Roman Chabanon –  Institute Gustave Roussy – 

Villejuif, France

.

Giovanna Lollo –

Faculty of Pharmacy-ISPB, University Claude Bernard Lyon 1, France

Ilaria Silvestri – Italian National research Council

, Italy
Christopher Swale –  Institute of Advances Biosciecens, Grenoble
Virginie Nahoum – IBPS Plateforme Integree de Criblage de Toulouse (PIC)
Register here before Oct 31st
  (
Registration is compulsory
and free of charge)
There will be a poster prize. If you want to contribute to this event with a poster, please send us your abstract and tittle proposal through the contact form below
Journée Ambassadeur @INC Chemical Biology Tour Monday 24 April 2023
Prof Laura Kiessilng, Department of Chemistry at MIT (Boston), will be on a Tour de France, invited byt the Ambassadors@INC program. We will have the honor to receive her in Grenoble on Monday 24th of April and she will present her research on recognition of glycans and the possible application for therapeutic purposes.
Glyco@Alps, together with the Labex Arcane and Departement de Chimie Moléculaire will host Prof. Kiessling and will organize half day symposium dedicated to Chemical Biology. Four young researchers from different laboratories will present cutting-edge research from Grenoble community.
The attendance is free, but registration is mandatory at this link. Please, find the full programm here.
podcast TAmDeM "Training des AcadéMiques sur le DÉveloppement du Médicament"
La Fondation Maladies Rares avec la participation et le soutien de Sanofi Genzyme vous propose de suivre le podcast TAmDeM "Training des AcadéMiques sur le DÉveloppement du Médicament" pour comprendre les étapes de développement d'un médicament, de sa création dans un laboratoire académique à sa mise sur le marché par un industriel.
Il sera diffusé chaque mois sur vos applications d'écoute de musique : Apple Podcasts, Spotify, Google Podcasts, Amazon Music, Deezer.
Pour en savoir plus : https://evenements-fondation-maladiesrares.org/event/podcast-tandem/
1 day Face-to-face workshop of the Grenoble Drug Discovery event
 November 25th 2022 . Grenoble.
Speakers
Valérie

Lamour

–  IGBMC – 

Strasbourg, France

.

J

ordi Mestres

– 

IMIM Hospital del Mar Research Institute

–

Barcelona, Spain.

Florence Mahuteau – Chemistry and Modeling for the Biology of Cancer Institut Curie – Université PSL – Orsay, France.
Didier Leroy

– Medecine for Malaria Venture

– Geneva, Switzerland.
Third Grenoble Drug Discovery Event
 April 13th 2022 (13:00 am 15:30). VIRTUAL EVENT.
Program
13:00 – 13:30: "Rational antitubulin drug design" –

Michel Steinmetz –  Paul Scherrer Institute – Villigen
13:30 – 14:00: "Machine learning for early stage drug discovery" – Charlotte Deane – University of Oxford – Oxford

14:00 – 14:15: 

"DEN-Induced Rat Model Reproduces Key Features of Human Hepatocellular Carcinoma"

 

– Zuzzana Macekjilkova

 – CHU 

– Grenoble

14:15 – 14:20:

Pause

14:30

–

14:45: "Engineering sialylated lipid nanoparticles toward a new cure for Influenza" 

– Paul Rivolier

 – CERMAV 

– Grenoble

14:45 – 15:00: 

"New fluorophore emitting in the NIR-II for image-guided surgery" 

– Lucy Sancey

 – IAB 

– Grenoble

15:00 – 15:30: 

"Exploring fungal BET inhibitors as a potential new class of antifungal drugs" 

– Carlo Petosa

 – IBS 

– Grenoble
Second Grenoble Drug Discovery Event
 September 28th 2021 (9:00 am 11:00). VIRTUAL EVENT.
Invited speakers
9:00 – 9:40: "

Integrative

 Drug Discovery 

Targeting

 

Protein-Protein

 Interactions

" – Xavier Morelli – Cancer Research Center CRCM – Marseille
9:40 – 10:20: "Structural insights into the mechanism of antivirals targeting influenza virus RNA-dependent RNA polymerase" – Stephen Cusack – EMBL – Grenoble
10:20 – 10:40: "Automated Protein-to-Structure Pipelines for Drug Discovery " – Irina Cornaciu – ALPX s.a.s – Grenoble
Grenoble Drug Discovery Kick off Event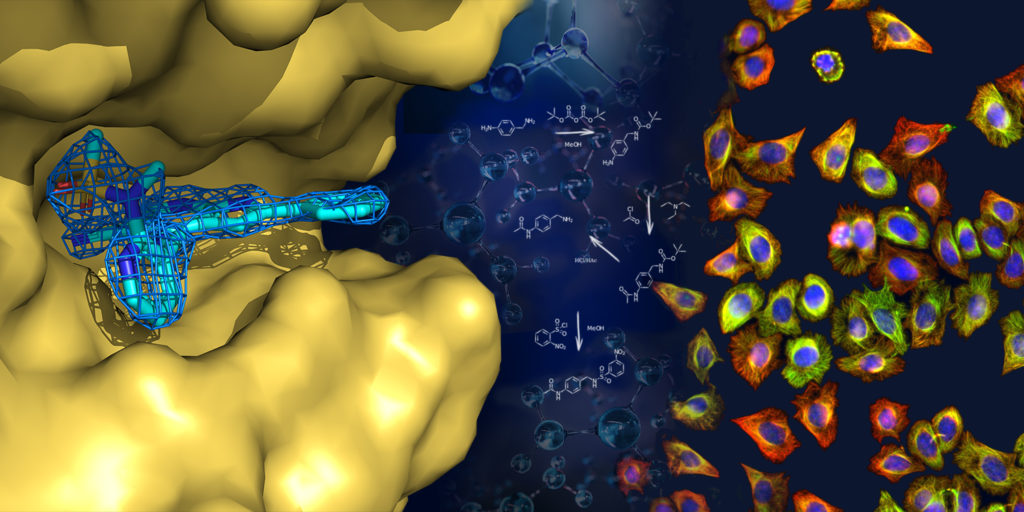 May 18th 2021 (9:00 am 12:00). VIRTUAL EVENT.
Invited speakers
"Phenomics approaches to support antibacterial drug discovery" – Nelly Dubarry – Evotec ID SAS – Lyon

"Exploring new targets and chemical space with affinity selection-mass spectrometry" –

Didier Roche – Edelris

"Discovering a first-in-class in the context of antimicrobial resistance :  from the concept to the clinic"

 –

Benoit Deprez – University of Lille
Partner event: "Journée Scientifique du Médicament"
Theme: Vectorization and theranostic.
Free registration: http://dpm.univ-grenoble-alpes.fr/jsm

 June 10th 2021 (3:00 pm CET). VIRTUAL EVENT.June